Australia Endures Record Heat Wave and "Catastrophic" Fire Conditions
January 9, 2012
Temperatures in Australia topped 104 °F (40 °C) on January 8, and the mean national temperature climbed to the highest in history, breaking a record set just the day before, on January 7, reported the Australian Bureau of Meteorology. The new record prompted meteorologists at the bureau to take the extraordinary step of adding two new colors to its temperature charts to extend their range to 129 °F (54 °C) from the previous cap of 122 °F (50 °C).
"If you look at yesterday, at Australia as a whole, it was the hottest day in our records going back to 1911," noted David Jones, manager of climate monitoring prediction at the Bureau of Meteorology. "From this national perspective, one might say this is the largest heat event in the country's recorded history."
According to public safety officials, four months of record-breaking temperatures combined over the past week with widespread drought conditions and high winds have created "catastrophic" fire conditions along the heavily populated eastern and southeastern coasts of the country. These areas include Australia's three largest cities, Sydney, Melbourne, and Brisbane, as well as the capital, Canberra. Firefighters and emergency crews in the state of New South Wales are facing a highly dangerous situation battling 130 separate bushfires. (A bushfire is an uncontrolled fire in bush areas, especially the Australian bush.) Very similar conditions on Feb. 7, 2009, came to be known as Black Saturday, during which wildfires in Victoria state left 173 people dead and caused $4.4 billion in damage.
Australia's current bushfires are being made worse by unusually hot temperatures, e.g., 110 °F (43 °C) in Sydney. The average January temperature in Sydney is 65 to 75 °F  (18 to 24 °C). (World Book map; map data © MapQuest.com, Inc.)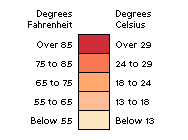 Additional World Book articles: