Wednesday, May 9th, 2012
May 9, 2012
Maurice Sendak, a popular, influential, and occasionally controversial American illustrator and author of children's books, died on May 8, 2012, at the age of 83. During a career that covered more than 60 years, Sendak illustrated about 80 books and wrote and illustrated nearly 20 others. His most famous work is the picture book Where the Wild Things Are (1964). Sendak won the 1964 Caldecott Medal for his illustrations for the book, which he also wrote. The story relates how a boy named Max deals with his emotions through the use of his imagination. The book influenced many children's illustrators to move away from the innocence of children's books of the time to create more realistic child characters.
Where the Wild Things Are was the first book in a loose trilogy that includes In the Night Kitchen (1970) and Outside Over There (1981). Each story portrays the main character on a voyage to a fantasy world. In The Art of Maurice Sendak (1998), Sendak explained that the three books "are all variations of the same theme: how children master various feelings–anger, boredom, fear, frustration, jealousy–and manage to come to grips with the reality of their lives." Sendak's works have aroused some criticism over his exploration of such sensitive topics as sexuality and fierce sibling rivalry. Upon its publication, some critics claimed that the monsters in Where the Wild Things Are were too frightening for children. Several of Sendak's books are close observations of children at play, including The Sign on Rosie's Door (1960) and We Are All in the Dumps with Jack and Guy (1993).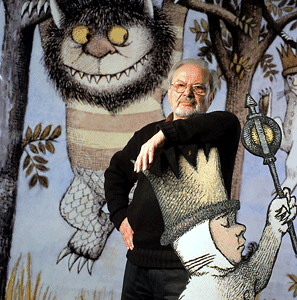 In addition to writing and illustrating children's books, Sendak worked in the theater during the 1980′s and 1990′s. He designed sets for operas and ballets and wrote the lyrics and designed a musical version of Where the Wild Things Are. He also collaborated with singer and songwriter Carole King on the children's album Really Rosie (1975). In 2003, Sendak and playwright Tony Kushner produced Brundibar (2003), a picture book based on an opera that was performed by children in the early 1940′s, during World War II, in a German concentration camp.

Maurice Bernard Sendak was born on June 10, 1928, in a poor neighborhood of Brooklyn, New York. He attended the Art Students' League from 1949 to 1951, when he began his career as an illustrator of children's literature.
Additional World Book articles: