Wildfires Rage Across Five of Australia's Six States
January 7, 2013
Firefighters and emergency crews in the Australian state of New South Wales are facing a highly dangerous situation battling bushfires. (A bushfire is an uncontrolled fire in bush areas, especially the Australian bush.) With temperatures in Sydney expected to reach 110 °F (40 °C) today and severely dry, hot winds blowing from central Australia, fire departments, volunteer brigades, and emergency authorities were bracing for the worst. Very similar conditions on Feb. 7, 2009, came to be known as Black Saturday, during which wildfires in Victoria state left 173 people dead and caused $4.4 billion in damage.
Bushfires are currently burning in 5 of Australia's 6 states, with 90 fires currently out of control in New South Wales and in the mountain forests around the capital, Canberra. "Any fire that burns under the predicted conditions–110 °F (40 °C ) temperatures, below 10 percent humidity, winds gusting over  43 miles (70 kilometers) per hour–those conditions are by any measure horrendous," Rob Rogers, deputy commissioner of the New South Wales rural fire service, told NBC News. Speaking on NBC News, New South Wales Premier Barry O'Farrell warned, "Tomorrow [January 8] is not going to be just another ordinary day. Tomorrow will be perhaps the worst fire danger day this state has ever faced."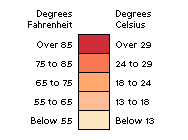 After touring the island state of Tasmania yesterday, Australian Prime Minister Julia Gillard promised emergency aid for fire victims, who told of exploding trees and fireballs that engulfed whole communities on January 5. A number of people remain accounted for.
Additional World Book articles: